Toro is an important center of Romanesque-Mudéjar in Castile and Leon. The churches were built of brick among the 12th and 13th centuries as GALLERY:
San Lorenzo el Real
Built in the late 12th century, it consists of a single nave and apse. The Flamish-Gothic tomb of the Castilla-Fonseca and the altarpiece made by Fernando Gallego both from the 15th century, are located inside.
San Salvador de los Caballeros
From the 13th century, it belonged to the Order of the Knights Templar, it preserves traces of wall paintings from different periods. Its interior also hosts an interesting Museum of Sacred Art.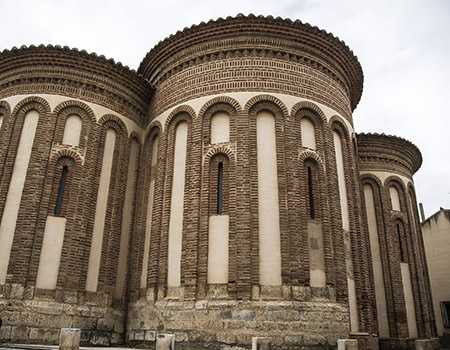 Church of the Santo Sepulcro
It belonged to the Order of the Knights of the Holy Sepulchre. Within the church you can see the ancient handicraft from the 12th century which is now hidden from outside by later constructions.
Chapel of Nuestra Señora de la Vega
Since the 13th century, it is located along the Douro in the middle of a beautiful landscape. Inside the chapel we can see the picture of the "Cristo de las Batallas"("Christ of the Battles"), patron of the city.
San Pedro del Olmo
Built in the 13th century, currently conserves restored ruins in its apse, we can see remains of Gothic mural paintings.